Courage, Heart and Soul …
the Strawberry Banks Farm Arabian Story
In 1978 Barbara and Neil Chur began a love affair with the Arabian horse.
They built a program based on Polish bred Arabians rich with the blood of *Bask, and the legendary mares *Elkana+, *Boltonka++ and Gdynia++.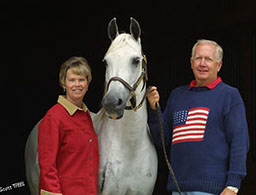 Three stallions formed the foundation of Strawberry Banks Farm breeding.

The SOUL is A Temptation (Tempter x A Love Song by *Bask++)bred by Strawberry Banks Farm in 1995. A Temptation embodies the farm's original vision and has been the prototype for the Strawberry Banks Arabian. "A Temptation personifies what makes us so proud of our horses," says Barbara. "It's not simply their wonderful personalities or the wonder of the love they share with people it's their splendid Arabian characteristics, especially their great sense of self, their expressive faces, beautiful eyes and magnificent Arabian tail carriage. A Temptation, his dam and granddam, A Love Song and *Elkana++ all had those unique Arabian qualities." A Temptation had an 8-year show career and was seven times national or reserve national champion in Pleasure Driving, English Pleasure and Park. He was a featured star at the 2013 U.S. National Championships in the Hall Of Legends.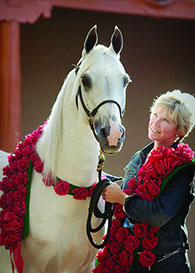 The stallion that is the HEART of Strawberry Banks Farm is Hey Hallelujah++// (Huckleberry Bey++ x Hallelujah Bask by *Bask++). Hey had a 7-year show career and won six national championships and a reserve in English Pleasure and Pleasure Driving and a National Top Ten in Halter. He is perhaps the only horse to win both at Scottsdale and the Canadian and U.S. National Championships in the same year. "Hey Hallelujah++// passed away in the summer of 2012, it was a great loss for the farm and the Arabian community," says Brian Murch, Hey's longtime friend and trainer. "He was always so young at heart, so willing and in love with life." The farm will retain Hey's bloodlines through his daughters.

In 2008, Baske Afire (Afire Bey V x Mac Baske, by Baskevich), was added to the Strawberry Banks Farm line up. He brings COURAGE and STRENGTH to the breeding possibilities. A rare and fortunate match made in heaven with this triad of stallions. He is the Leading Sire of Performance Winners 2011, 12, 13, and 2014 at the U.S. National Championship Shows. In 2014 Baske Afire's offspring won 12 U.S. National Champions, 8 Reserve National Champions and 78 Top Ten awards.

Major Arabian breeding operations have become a rarity in America. Strawberry Banks Farm, has maintained a formidable broodmare band dedicated to specializing in beautiful and talented English-type Arabians. Daughters of A Temptation, Hey Hallelujah and Baske Afire provide an extraordinary opportunity for English excellence. The art of breeding generations of exceptional Arabian horses is a combination of love, passion, the drive for excellence, patience, and a vision for the future. Included in this vision are three generations Barbara, her daughter, Lissa and grand daughter, Sawyer to present and perpetuate these beautiful horses.